GAIL JOSLIN
Gail Joslin has been Director of Handbell Ministries at Wesley United Methodist Church in Bloomington, IL since 1988 and currently directs three ringing choirs ranging from 3rd grade through adult.
Gail is a solo ringer, clinician and a sales representative in Illinois and Missouri for Malmark Handbells. She has taught classes at Handbell Musicians of America Area 8 conferences as well as local festivals and workshops around Illinois.
This will be Gail's 25th year directing at Intergenerational Handbell Camp in Parkville MO.  She brings her enthusiasm for ringing and her commitment to teaching musicality to ringers of all levels of experience by understanding the proper use of basic ringing techniques.
Gail is married to Bill Welk.  She has two daughters, Cheri (Patrick) Long and Katie (Travis) Doubet, a granddaughter, Jalyn and her grandson, Blake.  Gail works full time for Bloomington Public Schools where she maintains the database for the Special Education Department.
JANET CARTER
Janet Carter has a Music Education degree from Victoria University of Wellington, New Zealand and High School teaching credentials from Christchurch Teachers College, Christchurch, New Zealand.
Janet has taught music in high schools, elementary schools, and preschools and has a number of piano students, and more than 40 years experience as a church musician.
Janet is the Director of Music, Youth, Small Group and Video Ministries at Saint Mark's United Methodist Church in Overland Park, Kansas, where she plays the piano in worship, and directs two adult handbell choirs, the chancel choir, and the Praise Team.
Janet has been a clinician and faculty member at various handbell events including Handbell Musicians of America National, Area 8 and Area 2 events for both adults and young ringers. She is known for her "Maori Stick Games" classes, which help to develop rhythm and coordination skills for handbell ringers.
Janet has successfully completed the Handbell Musicians of America Master Class on Score Study and Rehearsal Procedures for Handbell Directors and for 14 years has thoroughly enjoyed being part of a team of directors at the annual Intergenerational Handbell Camp in Parkville, MO.
LAURAN DELANCY
Lauran Delancy began ringing in high school and immediately fell in love with handbells. She has been a soloist since 1998 and has been directing since 1999 at community, church, and collegiate levels. She loves working with handbells and answering questions. Lauran is a published composer and most enjoys writing for handbells.
Lauran attended Concordia University Wisconsin where she had the opportunity to ring as a member of the Alleluia Ringers under the direction of Dr. John Behnke for 6 years.
She holds a BA in Parish Music, a BA in Humanities, and a Master of Church Music degree with an emphasis in Handbells. She served Area 8 of the Handbell Musicians of America as Education Chair from 2011-2014.
Lauran is the Director of Choirs and Handbells at Beautiful Savior Lutheran Church in Olathe, Kansas and is the Artistic Director of Rezound! Handbell Ensemble, a community handbell choir in the greater Kansas City area (www.Rezound.org). Lauran and her husband Patrick have four future ringers: Cora (2008), George (2009), Nathan (2011), and Isla (2013).
KATHY FORD
Kathy Ford taught vocal music for 28 years in Clinton and Blue Springs, Missouri schools.  She earned a Music Education degree from Baker university and a Masters of Arts degree from UCM.  She is an organist at First United Methodist Church, Blue Springs, directs the Chancel Choir and two adult handbell choirs as well as coordinates the worship service music.
Kathy has been a director at Intergenerational Handbell Camp since the second year and has been a member of Rezound! since 2002.  She maintains a private piano studio, and occasionally serves as a piano, choral and handbell clinician/adjudicator.  She assists her husband, Chuck, as the Brass with Class contest piano accompanist.  In her spare time she finds time for golf, travel, and playing with grandchildren.
CHUCK FORD 
Chuck Ford has been directing the wind ensemble and ringing handbells at the IHC for over 20 years.  He earned his Bachelor of Music Education degree from Baker University and graduate hours at KU and UCM.  Chuck was a public school band director in early years, and worked in the utility industry for 25 years.  He continues to teach privately in his home "Brass with Class" music studio.  He is a member of the International Trumpet Guild and Mid-America Music Association and serves on their board of directors.  He rings in the UMC handbell choir, and writes/plays trumpet hymn descants for church services.
He resides with his musician-wife, Kathy, along with an impressive cornet/trumpet collection.  Chuck and Kathy have two married sons and four grandchildren–Chad/Mandy (Adison and Ansley), Tanner/Michelle (Lilly and Drake).  Chuck enjoys kayaking, travelling, and playing with their rescued farm-dog, Molly.
LINDA ASHLEY
Linda Ashley has been involved in music since elementary school, playing oboe and english horn through her school years and in community bands and orchestras after high school.
She has been the Handbell Director at Immanuel Lutheran Church in Omaha, NE for over 25 years, currently directing two choirs. She began ringing at the church well over 30 years ago.
She has been a member of River City Ringers, Omaha's community handbell choir (www.rivercityringers.com) since the fall of 2007. She has attended most Distinctly Bronze events since 2009 and Bay View Week of Handbells since 2010. She has attended most summers of Handbell Camp since learning about it in 2006. She is currently the state chair for Nebraska for the Handbell Musicians of America.
Linda has been a pharmacist for over 37 years and is currently at Nebraska Methodist Hospital. She is married with 3 grown children and 5 adorable grandchildren.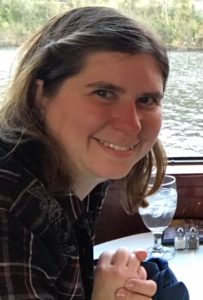 STACI CUNNINGHAM
Staci Cunningham has been involved in music her whole life.  She started piano lessons at five and flute lessons in fifth grade.  When at Bethany College, where she graduated with a degree in accounting, she added voice lessons to that list.  Her freshman year in college the choir was selected to sing as the back up choir for Kenny Roger's Christmas concert in Salina, KS and she was also part of the Oratorio Society that got to sing at Carnegie Hall in New York her sophomore year.  
Staci fell in love with handbells when she became a sub for her church's choir.  A year later, the director became ill and Staci stepped in.  Twelve years later, she is still directing! (She is directing at her second church though!)  She has attended Intergenerational  Handbell Camp for 10 years and was the Kansas State Chair for Area VIII of the Handbell Musicians of America for three years.  
Staci and her husband Scott keep busy running the family's wire business.  They have two teen/tween daughters, Susanne and Sadie.  When Staci finds time to relax, you can find her reading, quilting, or sewing.
2015 Handbell Camp Choir Directors (L-R) Chuck Ford, Kipp Willnauer, Kathy Ford, Janet Carter, Gail Joslin